Winners of the Semantic Web Challenge 2011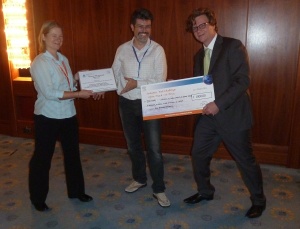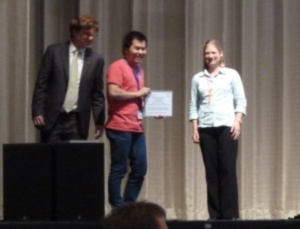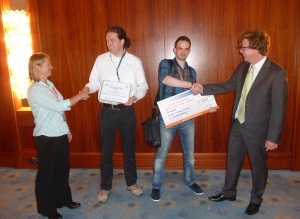 The winners of the Semantic Web Challenge 2011 have been announced in the ISWC closing ceremony. The SWC chairs, Diana Maynard and Christian Bizer, as well as the complete jury congratulates the following teams:
Open Track
| | | |
| --- | --- | --- |
| 1. Prize | BOTTARI: Location based Social Media Analysis with Semantic Web | Irene Celino, Daniele Dell'Aglio, Emanuele Della Valle, Marco Balduini, Yi Huang, Tony Lee, Seon-Ho Kim, and Volker Tresp |
| 2. Prize | Seevl - mining music connections to bring context and discovery to the music you like | Alexandre Passant |
| Honorable Mention | The Linked Sensor Middleware - Connecting the real world and the Semantic Web | Danh Le Phuoc, Hoan Nguyen Mau Quoc, Josiane Xavier Parreira, and Manfred Hauswirth |
Billion Triples Track
Congratulations to the winners and thanks to our participants, advisory board and our sponsor Elsevier Science for making SWC 2011 again such a successful event!
Press release about the Semantic Web Challenge 2011
7 Submissions were selected for the Second Round.
The ratings for the first round of the Semantic Web Challenge are in. Based on the ratings, the following submissions were selected for the second round of the Challenge and will be presented today in the Semantic Web Challenge session from 14:00-16:00 in room Maritim:
Please note that submissions were just rated (i.e., did not recieve a full peer review) and are not published as part of the conference proceedings.
Open Track
Billion Triple Track
Lots of thanks to the SWC 2011 evaluation committee for the first round of judging.
The committee consists of:
Peter Mika
Hideaki Takeda
Ivan Herman
Tom Heath
Tim Finin
Mark Greaves
Sweitze Roffel

15 Submissions are competing in the Challenge.
The Semantic Web Challenge 2011 has received 15 submissions (10 in the Open Track, 5 in the Billion Triple Track). All submissions will be presented at the ISWC poster session on Tuesday, October 25th, 18:15-20:30. Please find the abstracts describing the systems below.
Open Track
Billion Triple Track